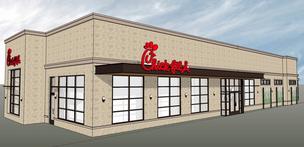 The Minneapolis / St. Paul Business Journal reports that Chick-fil-A, the Atlanta-based fast food chain, has shared its tentative plans with the city of Bloomington to tear down a former Target Commercial Interiors building at Interstate 494 and Penn Ave and open a new 132-seat restaurant there that would also have a drive-through window.
Chick-fil-A met with Bloomington's Development Review Committee (DRC) to discuss its plans. The company hasn't made a formal application to the city yet. The city, among other things, will likely require Chick-fil-A to conduct some sort of traffic review for the potential impact on Penn Avenue.
The two-acre site, located at 2525 West 79th St., is still owned by Minneapolis-based Target, which operates a store that shares the same parking lot. Target is expected to sell the land to make way for the project, according to DRC meeting minutes.
0
0
bwadmin
bwadmin
2013-02-28 08:52:32
2016-11-28 23:06:10
Chick-Fil-A Coming to Bloomington?