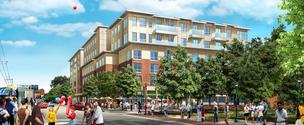 Episcopal Homes will break ground Wednesday on a $45 million senior housing complex at the site of the former Porky's Drive-In in St. Paul.
The new development, called Midway Village, will have 63 apartments, six 10-person households for long-term and memory care, and 50 affordable one-bedroom apartments for seniors.
"There is an urgent need for more of everything we do," Episcopal Homes CEOMarvin Plakut said in a news release. "The Midway Village project is the biggest step we've ever taken toward meeting that need. It is the largest, single investment in St. Paul since light rail."
The groundbreaking event will be held at the site of the project, at the southwest corner of University and Fairview avenues at 11 a.m. Wednesday. Former St. Paul Mayor George Latimer and current St. Paul Mayor Chirs Coleman will be among the speakers.
Porky's, a drive-through icon in the Twin Cities that used to attract vintage auto collectors on summer weekends, closed in 2011.
Source: Business Journal
http://landmnwi.com/wp-content/uploads/2018/04/CW_Logo_Color_340x156.png
0
0
Tina Stadtherr
http://landmnwi.com/wp-content/uploads/2018/04/CW_Logo_Color_340x156.png
Tina Stadtherr
2013-05-01 14:11:08
2016-11-28 23:03:00
Senior Housing at Former Porky's Drive-In, St. Paul