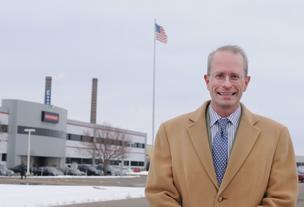 Minneapolis developer Paul Hyde closed Wednesday on the largest acquisition of his career — the 2 million-square-foot BAE Building in Fridley.
An entity related to Hyde Development paid $13.5 million for the property, which he hopes to convert over the next five years into a 1.7 million-square-foot modern industrial park.
Hyde plans to start redeveloping the site on the south side of the BAE building, beginning with the construction this fall of a 200,000-square-foot bulk warehouse property. Eventually Hyde will move to the north side of the current building, and when that's developed, he'll raze the existing building and replace it with more, smaller structures.
There are about six tenants in the existing building. The largest tenant is defense contractor BAE Systems, which has a lease that runs until Dec. 31, 2015.
The seller was St. Louis-based Environmental Liability Transfer Inc., which bought it from BAE for $20 million in 2005. The U.S. Environmental Protection Agencyclassifies part of the land as a Superfund site due to solvents, paint sludge and plating wastes that were generated and disposed of in an on-site dump from the 1940s to the 1960s.
Hyde, who has made a career out of redeveloping brownfield sites, financed the acquisition with a loan from the First National Bank of Omaha and his company's equity. Since there are tenants in the existing building and he has abundant raw land to develop, he called it "a cash-flowing land loan."
I first broke news about Hyde's $145 million redevelopment plan for this site in February 2012. I did an update this winter, as Hyde was working his way through the Fridley city approval process. The site has conceptual approvals from the city.
Hyde doesn't have a name for the project yet. He's interviewing potential architects to help draw up a final site plan and possibly help with branding the site, which has an interesting history dating back to World War II when gun turrets were made by women working on the home front.
"We'd like to find a way to honor that history," Hyde said.
Colliers International Minneapolis-St. Paul brokers Jason Simek, Eric Batiza and Mark Kolsrud are marketing the property to users on behalf of Hyde.
Mortenson Construction has been retained as the design-builder for the site.
Source: Business Journal
http://landmnwi.com/wp-content/uploads/2018/04/CW_Logo_Color_340x156.png
0
0
Tina Stadtherr
http://landmnwi.com/wp-content/uploads/2018/04/CW_Logo_Color_340x156.png
Tina Stadtherr
2013-07-16 07:56:13
2016-11-28 22:45:11
Hyde Development Plans Massive Industrial Redevelopment